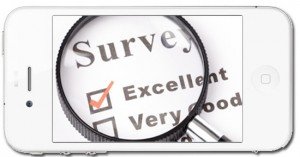 Surveys via Text Messaging = Increased Truthfulness
Everyone is texting. With their friends, family, coworkers and businesses. It's officially a comfortable communication method, used more than voice calls for the average American mobile user. But did you know it can actually help provide you with more truthful information when conducting surveys?
During elections, we hear about robocalls and the difference between polling companies because they call mobile phones as well as landlines. We consistently think "what about text messaging?" Besides the fact that it is illegal to randomly pick numbers and begin sending them text messages, we think it is a valuable medium for gathering data, especially from more people. Not everyone has a smartphone and even those who do still text.
Well a recent study from the University of Michigan showed not only that text messaging was a great method of gathering data via surveys, respondents were actually more truthful in their response. A quote from the researcher "so far it seems that texting may reduce some respondents' tendency to shade the truth or to present themselves in the best possible light in an interview—even when they know it's a human interviewer they are communicating with via text."
This is truly an amazing finding. Text messaging can help offer that additional social buffer of "safety" where another person is concerned and it is a medium that is rooted in personal communications.
If you are looking to offer surveys via text messaging, we can help you design and implement a solution that enables live "textchat" responses with interviewers or automated responses. Let us know what your text messaging survey goals are in a free consultation and we'll put together a quick quote for you.
—
Want to learn more? Join the Patient Recruitment and Retention (PR+R) Group on LinkedIn!
Get a quote for Mosio's patient engagement solutions.