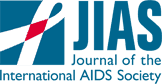 The Journal of the International AIDS Society study leverages Mosio's Technology for text message surveys to assess HIV sexual transmission risks. The JIAS reported study, done in conjunction with the University of Connecticut was published on August 5, 2015 is titled HIV sexual transmission risks in the context of clinical care: a prospective study of behavioural correlates of HIV suppression in a community sample.
During the study, data was collected from participants via daily text message diaries using numerical responses to a list of questions about sexual behavior. Mosio worked with researchers at the University of Connecticut's Center for Health, Intervention, and Prevention to set up a text prompt and response system with a customized survey (diary) for the study. The data collected through the text message diary was then used to meet the study objective: "To determine the sexual behaviours and HIV transmission risks of individuals with suppressed and unsuppressed HIV replication (i.e., viral load)."
We at Mosio are proud that our technology was able to help this pioneering, vital HIV research come to fruition. Interested in the results? The full article is available for viewing and download on the JIAS website.
---