Health Tech Programs Including Text Messaging Show Positive Results
Health tech programs using text messaging services to promote healthy choices and change behaviors have been shown to be effective on an increasing basis for the last few years. A new clinical trial investigating coronary artery disease and healthy behaviors has proved that text messages from care providers can help reduce the risk of a second heart attack. This study is unique because it uses concrete markers like weight and blood pressure to measure the effectiveness of the text messaging program, where previous studies have relied on self-reported data.
The six-month trial led by Dr. Clara Chow of the George Institute for Global Health found that patients recovering from a heart attack were more likely to improve their heart-health related behaviors when they received text messages that gave helpful hints and asked about their exercise and food choices when compared to a control group that received no text messages. The text messages sent to patients were generated by a computer algorithm and delivered small reminders about recommended practices for people who are living in the aftermath of their first heart attack. Some of the messages were reminders about eating habits like, "Did you know 90% of people don't eat the recommended daily intake of vegetables (5 servings a day)?" or exercise tips like "Walking is cheap. It can be done almost anywhere. All you need is comfortable shoes & clothing."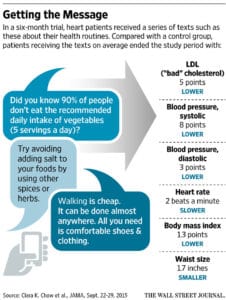 After the six month trial, the test group and the control group were compared to each other on differences in metrics such as blood pressure, cholesterol level, and body mass index. The group receiving text messages demonstrated a significant reduction in blood pressure as compared to the control group. Even more impressive were the differences in  measurements of other areas such as body fat and physical activity. The group receiving text messages showed results similar to what would be expected after a cardiac-rehabilitation program, while the control group did not.
Similarly significant results were shown when text reminders about healthy activity were sent to patients with rheumatoid arthritis (RA). A study presented at the European League Against Rheumatism Annual Congress (EULAR 2016) paired text messaging reminders with counseling sessions to make patients with RA more active in their daily lives. After the 16 week trial period, there was a significant difference in average daily sitting time between the experimental group and the control group. The group which received text messaging reminders to be active reported on average 1.6 fewer hours of daily sitting time as compared to their baseline.
A criticism of text messaging services can be that they may not reach a broad demographic range, but recent programs have proven otherwise. Text messaging services are being used as the lower-cost alternative to apps, which some people may not have access to and which use up a lot of cellphone data. Other programs that aim to create change in underserved population groups show great promise, as well. A modified version of Prevent, a diabetes and heart disease reduction program, has been introduced to underserved populations and will enroll 300 participants in the Southern California area. The leaders of the trial hope to find a reduction in the progression rate of diabetes in this region after the study has concluded.
Health programs that use text messaging services are increasingly showing positive results in terms of changing health behaviors and preventing chronic disease. Engaging a broad audience is becoming less challenging with the advent of these services, and the application possibilities within the healthcare field are virtually endless.
Mosio provides mobile health tech solutions for research, clinical studies and health pilot programs. To learn more, visit http://www.mosio.com.