HIPAA Compliance and Text Messaging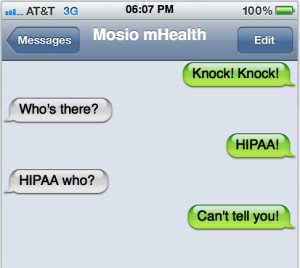 In 2011, The Joint Commission reported that 60 percent of all sentinel events were directly related to a breakdown in communication. Furthermore, researchers have sighted mobile health technology communication breakdowns as one of the biggest factors influencing clinical trial outcomes. With that in mind, health care providers and researchers have turned to text messaging to improve communication.
Mobile health technology such as text messaging provides researchers, health care providers and patients with a direct line of communication, which they can use to transmit vital information essential to improving clinical outcomes. Unfortunately, traditional text messaging is not secure or compliant with the privacy regulations of the Health Information Portability and Accountability Act (HIPAA). HIPAA compliant text messaging must follow the four major areas critical to compliance:
Secure data centers – HIPAA requires that all health-related data be stored in a secure location.
Encryption – HIPAA requires that all protected health information be encrypted both in transit and at rest.
Recipient authentication – HIPAA requires that any communication containing protected health information be delivered only to the intended recipient.
Audit controls – Any HIPAA compliant system must have the ability to create and record a trial for safety and compliance audits.
The aforementioned HIPAA compliance regulations can prove to be a major roadblock for any clinician looking to improve communication efficiency with text messaging. Contact Mosio for guidance on how you can use mobile health technology like text messaging in your health program or to discuss a HIPAA-compliant mobile messaging service using traditional text messaging and the mobile web.
For more information visit: http://www.mosio.com/biz/solutions/research.