Patient retention is one of the most problematic parts of clinical trials.  Often, tote bags, water bottles, and pedometers are the go-to for increasing retention.  However, retention is a multifaceted situation in which site research staff are the main players.  Here are five simple suggestions that staff can employ to increase patient retention:
Boost Patient Morale
The most important part of pharmaceutical and medical device research is the patients; let them know this.  They are helping others by participating in clinical trials, and are enhancing healthcare.  With this sense of purpose, patients will want to see clinical trials through until the end.
Build Relationships With Patients
Patients will want to answer phone calls, return messages, and come to follow-up visits if they have relationships with research staff.  Instead of monotonous, go-through-the-motions visits, engage your patients with conversation and be interested in what they have to say.
Be Available
If patients know that study staff is available to answer questions, help when adverse events occur, or clarify concerns, they will feel safer and more content on a study. Thus, they will stay on the study longer.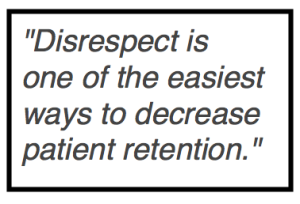 Be Respectful
Drug dispensing, diary writing, and adverse event reporting do not come easily to all patients.  Patients come from many backgrounds, and all deserve to be treated with respect.  Be easygoing, supportive, and courteous when a patient needs help in any situation.  Disrespect is one of the easiest ways to decrease patient retention.
Gauge Patient Satisfaction
Satisfied patients come back for study visits.  To gauge patient reaction to the study, site, and staff, consider periodic surveys via paper, website, or text.
In an article on Life Science Reader, Diana Anderson, President and CEO of D. Anderson & Company, says, "There are logistical, educational, emotional, and physical barriers to retention from a patient perspective, and study staff need to identify these barriers and create ways to overcome them."  Site research staff is responsible for patient retention, and can make or break research studies.  Luckily, there are many feasible ways for staff to make patients feel valued and satisfied in clinical trials.
—
Looking for an easy way to keep in contact with patients and run patient satisfaction surveys? Find out more about Mosio for Research at http://www.mosio.com/research.
Author: Emily Waller holds an Honors B.S. in Biomedical Engineering, has worked on numerous clinical trials, and as a medical & technical writer.  She writes to promote innovative ideas in healthcare, technology, and research within the online community.  She also loves photography, neuroscience, and household DIY projects.
——
Featuring over 65 tips from clinical research experts in recruiting and retaining study participants. Download Here
—
Want to learn more on telemedicine? Join the Patient Recruitment and Retention (PR+R) Group on LinkedIn!
Get a quote for Mosio's patient engagement solutions.