Offer connected health services and communicate more efficiently with patients using the mobile channel they prefer.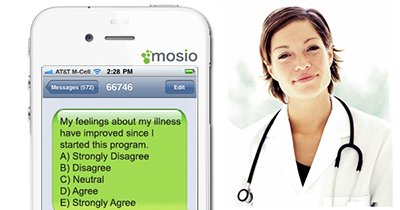 "Mosio made the set up process simple and the experience has been wonderful."
– Amber Shaw, Identigene (DNA Testing)
Text messaging improves healthcare communications
Healthcare communication services are vital to ensuring patient safety and good health, retaining patient clientele, and operating an organization smoothly. Mosio's connected health SMS software improves communication and engagement with patients by means of a platform widely used by people of all ages: text messaging.
SMS is the preferred communication channel for mobile users
Available on 99% of all mobile phones, text messaging is the most utilized channel on mobile devices. 95% of text messages are read within 10 minutes.
Mobile Patient Support Made Simple
Text Message Reminders and Alerts
Reminders, alerts, and surveys provided by Mosio's text messaging services are convenient for patient support, connected health, and communication services, as the majority of patients carry their phone with them at all times. Communicating prescription refill and medication reminders, test results, and consulting and care guidance are all viable uses of Mosio's technology. Although text messages are short, they are quickly received by patients and can easily segue to a phone call or informative website.
Text Message Surveys
Mobile text message surveys are simple ways to gauge patient satisfaction, get feedback about hospital stays or appointments, maintain proper pain management, and ask patients if they need support in specific topics, such as postnatal support and newborn/infant care. With Mosio, these surveys are an easy way to transition to TextChat, where patients can receive support from healthcare professionals as needed. A-E multiple choice surveys are available, as are user-defined character sets.
Two-Way TextChat
Save time and money over phone calls by enabling two-way text messaging. Whether used for discharge support, to gather quick feedback, ask questions or confirm appointments, Mosio's two-way text messaging software lets you communicate more efficiently.
Custom Development
Technical staff will work with you to integrate Mosio's messaging platform into your patient management software. This allows for a smooth transition to incorporate Mosio's services and a more effective use of mHealth technologies for patient communication.