A) USERS TEXT YOUR SPECIAL TEXTING NUMBER THE SAME WAY THEY DO FRIENDS, FAMILY AND CO-WORKERS.

B) USE OUR QUICKSEND FEATURE TO INITIATE ONE-TO-ONE COMMUNICATIONS WITH USERS.

C) USERS SUBSCRIBE TO GET ALERTS OR REMINDERS BY TEXTING ALERTS TO YOUR NUMBER.


---
STEPS TO GET YOU STARTED
STEP 1: SIGN UP AND GET A SPECIAL TEXTING NUMBER IN YOUR AREA CODE.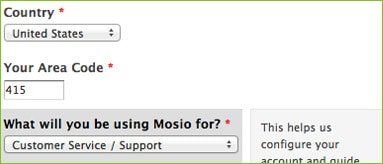 STEP 2A: INVITE PEOPLE TO TEXT YOUR NUMBER WITH QUESTIONS, COMMENTS, FEEDBACK, ETC.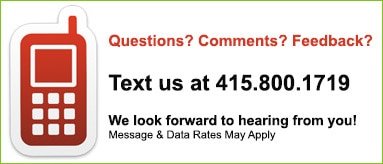 STEP 2B: USE OUR QUICKSEND FEATURE TO PROACTIVELY SEND TEXT MESSAGES TO USERS.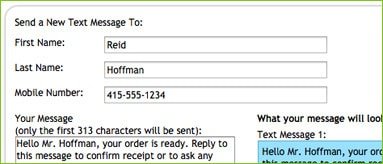 STEP 2C: BUILD A SUBSCRIBER LIST AND SEND ALERTS TO THOSE WHO OPT IN.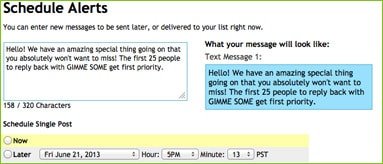 STEP 3: USE YOUR MOSIO Q&A ACCOUNT TO DO ONE OR ALL OF THE ABOVE.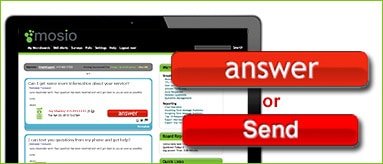 ---
Questions & Answers
What does "1 Text Messaging Number" in the plans mean?
It means either 1 virtual texting number associated with your account. We'll find one in the area code closest to your office.
Do we need any special hardware, phones or download any software to us Mosio?
Nope! Your users text you using their mobile phones. You respond via any internet-connected device by logging into our secure web-based dashboard. You can receive and respond to questions via PC, tablet or smartphone.
How do users send us text messages?
They text your virtual number, just like they do friends or family. You let us know what area code you're in and we'll secure a virtual texting number specifically for your organization.
Can they call the number?
By default, they will get a voice message letting them know it is for texting only, but we can route it to a number of your choice. Contact us for pricing.
How are we notified when new text messages come in?
You can be notified via your Mosio dashboard ("micro board"), email and/0r text message.
How many customers can an agent respond to at once?
As many as they can handle. We don't put limits on the number of simultaneous responses an agent can have. You'll find that they are able to help many more users than talking on the phone or via live chat.
What happens if we are unavailable when a question comes in?
You can create custom auto responders by day and time to let users know you are open or closed. We have holiday auto responders for special holidays that take precedence over your normal hours.
Can we initiate a text message with customers?
Absolutely! We have a feature called QuickSend which enables you to type in a user's mobile number and send a one-time message to them. They can reply and interact with you on your Mosio micro board.
Any other questions?
Use the Ask a Question tab on the right to ask a question via email or chat. If you're in the US/Canada, text 415.799.4144 with your questions.