HOW IT WORKS
Easy-to-use text messaging software for audience engagement.
---
PERFECT FOR EVENTS, HELPLINES, CUSTOMER SUPPORT, AND WORKFORCES
With no apps to download, no microphone lines or passing out paper, Mosio Q&A enables you to create more interactive experiences using the most popular function on a mobile phone: text messaging.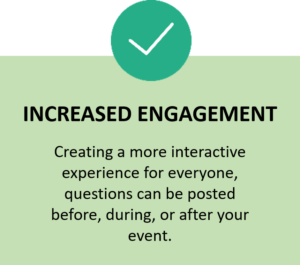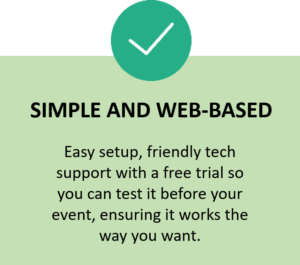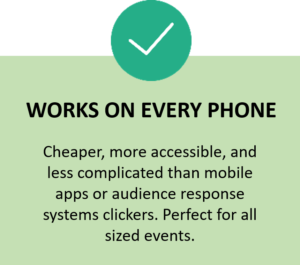 CORE FEATURES
Easy-to-Use Q&A Sessions, Surveys, TextChat, and Polls via Text Message
CUSTOMIZABLE HEADER FOR PROJECTED SCREENS
Mosio Q&A enables you to provide audience Q&A sessions, live polls, or surveys at events, conferences, town halls, and company meetings, empowering your audience to ask (and answer) questions via text messaging from their mobile phones.
Add your own look and feel with a custom header in the navigation, moderate questions before they show up on the screen, or even use our "Host Post" option where you can type questions and have them display.
Encourage input from every audience member, not just those willing to raise their hand or stand up at a microphone to speak.
Mosio's system is web-based and easy to set up, all you need is a laptop and internet connection. Your event's texting number can be advertised in printed materials or on your website to encourage questions to be asked ahead of time. You can have a single system for your main event room or separate systems for break-out Q&A sessions and rooms (inquire about discounts for multiple systems).
Mosio is Emoji-Friendly 🙂
Did you know recent studies show that 92% of the online population uses emojis? They're a powerful communication tool, with research reporting that 62% of adults over the age of 35 consider themselves "frequent users." The Mosio system supports them, so your audience can add a little flair and creativity to their questions or comments.
---
TEXTCHAT – INTERACTIVE, TWO-WAY TEXT MESSAGING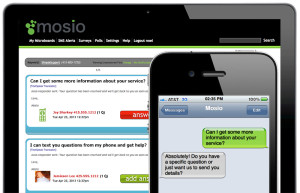 Mosio enables you to receive and respond to questions or comments via text message. You can communicate 10-15x more efficiently than phone calls using mobile's most popular channel. One staff member can assist multiple users simultaneously and spend less "talk time" without a reduction in communication quality. TextChat is perfect for hotlines and helplines, customer support, or as part of dispatch communications for work forces.
MOBILE PHOTO POSTING
Attendees text mobile photos to show up on the projected screen or monitors around your event.
Add more life and personality to your event with photos. Mosio's text-to-screen system enables your live audience to take photos with their mobile phones and post them to your screen. Photos are moderated and selected to show up on the screen. The mobile photo feature can be used for idea generation, scavenger hunts, team-building exercises, or to encourage engagement by showing photos posted on monitors or other screens throughout your event.
Deploy surveys before, during, and after your events to gather great information from your attendees.
Deploying surveys and polls to your audience is completes the loop for a truly interactive event. Enabling them to ask questions via text messaging is just the beginning with Mosio. Whether you are looking to offer 
live polls
, an easy to use audience response system, text message surveys, or audience voting, our system enables you to do it with ease. Using Mosio, you can send out an SMS survey before and after your event. Then, at your event, you can offer polls on different screens or monitors around the event, literally offering polls everywhere.
One way we're different:
We count by attendees and the number of surveys, not by responses, text messages, poll questions, or the number of survey answers. Your survey or poll can include as many questions as you like. While other services may only let you have one poll question for a poll, with Mosio you can ask as many questions as you like, providing you with the ability to gather as much information as possible from your attendees.
---
Suggested uses for live audience polling and event surveys:
Audience Response
Live Polling
Pre-Event Survey Questions
Post-Event Satisfaction Surveys
Live Voting
Giveaways
Try it now! Text SURVEY to 415-802-0099 from your mobile phone (US and Canada only).
---
TEXT MESSAGE SURVEYS FOR DATA COLLECTION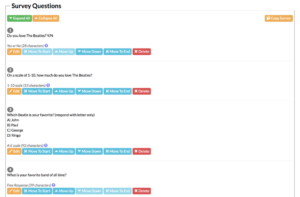 Our surveys module is web-based and easy-to-use, giving you the ability to create surveys or live polls on the fly. 
Collect opinions, data, and ideas efficiently using our web-based surveys module. Download the collected data via excel for use later. If you're looking to post survey or polls results onto a screen (or screens), Mosio makes it easy by providing you with a different display page for each survey or poll.
Try it now! Text SURVEY to 415-802-0099 from your mobile phone (US and Canada only).
---
BENEFITS
Attendees text from their mobile phones the same way they communicate with friends and family.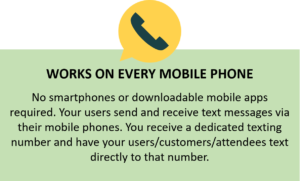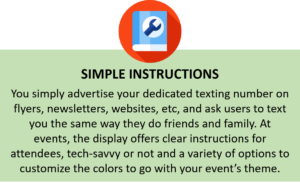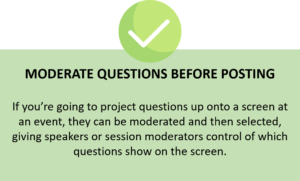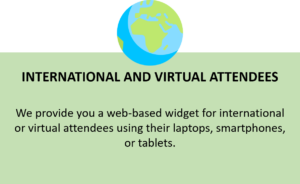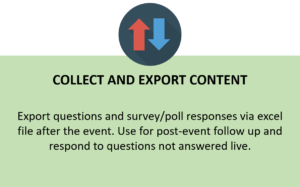 ---
PERFECT FOR ALL EVENTS, HELPLINES, OR SUPPORT TEAMS
From small teams to large groups, we've got you covered.