Mosio's web-based software enables you to receive questions from your audience via text message.
TEXT MESSAGING SOFTWARE FOR EVENT AUDIENCE Q&A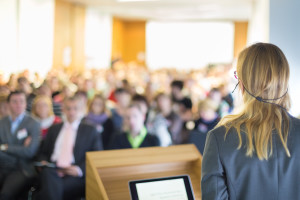 Event speakers and expert panels are great for event attendees, but the Q&A portion of the session is where attendees truly get to participate and engage with the speakers. Passing the microphone or pieces of paper for audience questions are a thing of the past. At best, they are an inefficient way to ask questions of speakers. There's a better way with two-way text messaging via text-to-screen software, inviting the audience to ask questions using the device they always have with them: mobile phones.
Audience Q&A sessions don't have to be time-consuming.
With Mosio attendees simply post their questions or comments using their mobile phones.
No microphone waiting for lines, raising of hands or renting of audience response clickers.
Audience members can text in questions, anonymously, from their chairs, using the device they always have with them.
Ensure the questions are appropriate for the event and venue.
Events choosing to use text-to-screen services can moderate questions before they are posted to ensure that they are appropriate for display at the venue. If the question or comment is not appropriate, it can simply be discarded.
Export questions afterward.
Mosio provides the ability to export questions later, providing you with the ability to gather data on what was most interesting to attendees. It also enables you to respond to questions that were asked, but not answered at the event, a great way to follow up and extend the event experience.
Mosio event solutions turn Q&A sessions into an interactive experience for conference and meeting attendees.
---
Customizable Header for Screens


---
HOW IT WORKS
Easy-to-use text messaging software for audience engagement.
With no apps to download, no microphone lines or passing out paper, Mosio Q&A enables you to create more interactive audience experiences using the most popular function on a mobile phone: text messaging.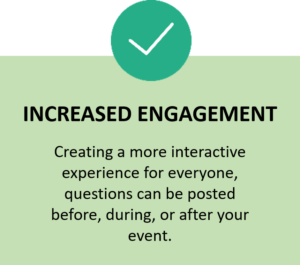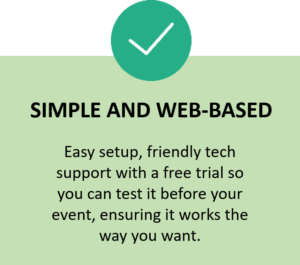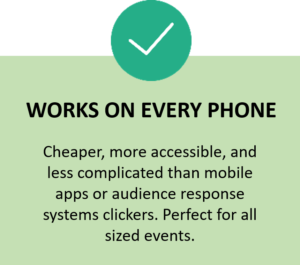 ---
Mosio Q&A for Events enables you to provide audience Q&A and surveys at events, conferences, town halls, and company meetings, empowering attendees to ask (and answer) questions via text messaging from their mobile phones.
Add your own look and feel with a custom header in the navigation, moderate questions before they show up on the screen, or even use our "Host Post" option where you can type questions and have them display.
Encourage input from every audience member, not just those willing to raise their hand or stand up at a microphone to speak.
Mosio's system is web-based and easy to set up, all you need is a laptop and internet connection. Your event's texting number can be advertised in printed materials or on your website to encourage questions to be asked ahead of time.